| NewIn |
Abel, Rosalind – The Palisade (KU)
Bradford, Bailey – Rory's Last Chance
Brant, Becca – Early Morning Mocha (KU)
Burrelli, Kiki – Finding Finn (KU)
Burrelli, Kiki – His Baby to Protect (KU)
Dabney, J.M. – Hunter
Drake Jocelynn & Elliott, Rinda – Unbreakable Stories: Rowe
Erno, Jeff – Slim Change
Harding, Meg – Accepting the Fall (KU)
Hayes, Lane – A Kind of Home
Hayes, Lane – A Way With Words (Gewinn)
Heller, Z.B. – Sex Ed (KU)
Heller, Z.B. – Tied Together (KU)
James, Rebecca – Second Alpha (KU)
Jamison, DJ – Heart Trouble (KU)
Jamison, DJ – Bedside Männer (KU)
Horne, Misha – Working Out the Kinks (KU)
Kerick, Mia – It Could Happen
Lain, Tara – Return of the Chaffeur's Son
Lamp, J.M. – Breathless
 Locey, V.L. – Point Shot Trilogy
Loveless, Lucas – Gay Bromance: The Groom's Hot Brother
Meadows, Cheyenne – Switch Hitter
Michael, Sean – Luckiest Master
Michaels, Annabella – Constructing the Soul
Murphy, Michael – Evac
Neuhold, K.M. – Going Commando
Northcote, Jay – Summer Heat
Peterson, SJD – Something's Brewing at Joe's
Rylon, Jayne – Middleman
 Singh, Nalini – Silver Silence
Stevens, Felice – The Shape of You
Tortuga, BA – What the Cat Dragged In
Vos, Max – A Bear in Paris
West, Alex – Anything But Real
| Ich lese aktuell … |
Wieder einmal Felice Stevens. Ich lese zwei Reihen von ihr immer wieder gerne und ich habe sie auch auf dem Kindle gebunkert. Mit ihren neueren Büchern werde ich leider nicht so warm. Doch die Geschichte von Corey und Eric scheint mir wieder mehr 'Felice' zu sein. Noch bin ich am Anfang und es entwickelt sich gerade. Aber ich hoffe, dass die Geschichte ihre Qualität behält.
 | Monatshighlight |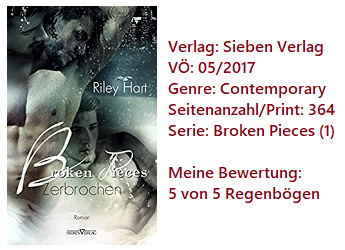 Mein Highlight? Ganz klar Broken Pieces von Riley Hart. Der Sieben Verlag hat den ersten Teil der Trilogie übersetzt und diese Geschichte konnte mich voll und ganz überzeugen. Ich habe ja schon einige Bücher der Autorin im Original gelesen und bin immer wieder um diese Menage Geschichte herumgeschlichen. Irgendwie konnte war einfach nie der richtige Zeitpunkt dafür. Aber jetzt ist es vollbracht und ich freue mich schon sehr auf den zweiten Teil. Natürlich könnte ich gleich im Original weiterlesen, aber diese intensive muss ich erst sacken lassen.
| Buchflop des Monats |
Was fand ich nun nicht so gut? Definitiv die Geschichte von Patrick und Will. Eigentlich mag ich diese Autorin sehr gern und habe auch schon ein paar Sachen von ihr gelesen. Dieses Mal konnte sie mich aber nicht überzeugen. Die Geschichte ist etwas steril und die Helden sehr oberflächlich. Überhaupt wird viel nur angerissen und nie vertieft. Auch waren die Helden jetzt auch nicht unbedingt Wohlfühlhelden, die man gleich ins Herz schliessen kann/darf/soll.
| Gelesen~Gehört |
Brocken Pieces – Zerbrochen – Riley Hart 5/5 Rezi
Waiting For Mr. Ashwell – K. Sterling 5/5 Rezi
Eine lockere Sache – Annabelle Jacobs 3/5 Rezi
Switch Hitter – Cheyenne Meadows 4/5 Rezi
Sex Ed – Z.B. Heller 5/5 Rezi
Going Commando – K.M. Neuhold 4/5 Rezi
Mr. und Mr. Auster – TJ Klune 5/5 Rezi
Safe and Sound – K. Sterling 5/5 Rezi
The New Boy – Sean Michael 4/5 Rezi
Heart Trouble – DJ Jamison 4/5 Rezi
Love in the Line of Fire – Michael Murphy 5/5 Rezi
His Baby to Protect – Kiki Burrelli 4/5 Rezi
Summer Heat – Jay Northcote 5/5 Rezi
A Bear in Paris – Max Vos 3/5 Rezi
Spark and Flame – K. Sterling 4/5 Rezi
Mixed Signals – West Cooper 4/5 Rezi
How We Survive – Michele Notaro 4/5 Rezi
Early Morning Mocha – Becca Brant 5/5 Rezi

First Omega – Rebecca James 4/5
Gay Bromance: The Groom's Hot Brother – Lucas Loveless 3/5
Working Out The Kinks – Misha Horne 3/5
An Unconventional Relationship – Casper Graham 3/5
Catching Light – Meg Harding 3/5
abgebrochen:
Liebe in fünfzehn Lektionen – Celia Jansson
Love Restored – Carry Ann Ryan
| Bleibende Worte |
 Mit 16 wollte ich Jedem helfen.
MIt 20 wollte ich Jeden therapieren.
Heute bin ich froh, wenn alle die Fresse halten.
(Schwarzer Kaffee via FB)