| NewIn |
Arthur, A.M. – His Faith As He Finds It
Arthur, A.M. – Wild Trail
Ashwood, Cate – Alaska (ARC)
Chambers, JD – Only Need You
David, Luna – Let Me In (KU)
Frank, Ella – Confessions: Robbie (KU)
Hawthorne, Kate – The Colors Between Us (KU)
Inman, John – Ginger Snaps
Leigh, Garrett – Soul to Keep
Leigh, Garrett – Rented Heart (Freebie)
Michaels, Sean – The Eager Boy
Montgomery, Shaw – Easton (Freebie)
Montgomery, Shaw – Houston
Neuhold, K.M. & Phoenix, Nora – Ballsy (Freebie)
Neuhold, K.M. & Phoenis, Nora – Tank
Neuhold, K.M. – Rock Bottom (Freebie)
Neuhold, K.M. – Inked in Vegas
Northcote, Jay – Second Chance (KU)
Parrish, Roan – Natural Enemies (Schnäppchen)
Rundle, Mary – Raphaels Power (KU)
Rundle, Mary – Peace Maker (KU)
Scott, RJ – Face Value (Freebie)
Scott, RJ – Guarding Morgan (Freebie)
Scott, RJ – The Only Easy Day (Freebie)
Singh, Nalini – Engelsherz (Schnäppchen)
Stevens, Felice – Rhoades (KU)
Stevens, Felice – Austin (KU)
Wallace-Knight, Jane – My Husband is a Grumpy Werewolf and So Is our Baby!
| Ich lese aktuell … |
Oh, darauf habe ich lange gewartet. Garrett Leigh schreibt nicht immer einfach und manchmal muss man sich auch etwas überwinden um am Ball zu bleiben. Aber schon der erste Teil der Skin-Reihe hat mich total mitgenommen, gefesselt und geflasht. Klar, dass ich jetzt gleich, sofort und überhaupt den zweiten Teil lesen und alles andere liegen lassen muss.

| Monatshighlight |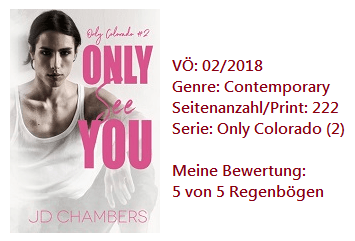 Mein Monatshighlight ist ein ganz außergewöhnliches Buch, das mir erst einige Probleme gemacht hat. In meiner Rezension gehe ich gern weiter darauf ein. Aber der Gesamteindruck war dann wirklich überwältigend. Hier hat JD Chambers wirklich ein ganz, ganz großes Buch abgeliefert und mit Mal Copal einen ganz besonderen Charakter erschaffen.
| Buchflop des Monats |
Der Buchflop des Monats geht ganz eindeutig an das Buch von Luna David. Let Me In hatte einen vielversprechenden Plot. Leider war der Alpha-Held eine furchtbare Enttäuschung und das ganze Buch war mehr Qual als Lust. Ich habe mich bewusst durchgequält und es nicht abgebrochen. Dennoch – never, ever ….
| Gelesen |
Ashwood, Cate – Alaska 4/5 Rezi
Chambers, JD – Only See You 5/5 Rezi
David, Luna – Let Me In 1/5
Denning, E.M. – What He Hides 4.5/5 Rezi
Denning, E.M. – What He Craves 5/5 Rezi
Hart, Riley – Color Me In – 5/5 Rezi
Kennedy, Sloane – Sanctuary Found 5/5 Rezi
Kennedy, Sloane – Locked in Silence 5/5 Rezi

King, Bonnar – The Omega's Alpha Boss 4/5 Rezi
McKay, Ari – His To Serve 5/5 Rezi
Melzer, Xenia – Ein Dom und sein Schriftsteller 4.5/5 Rezi
Montgomery, Shaw – Easton 4/5
Montgomery, Shaw – Houston 4/5 Rezi
Neuhold, K.M. & Phoenix, Nora – Ballsy 5/5
Northcote, Jay – Second Chance 5/5 Rezi
Rundle, Mary – Peace Maker 3/5
Rundle, Mary – Dire Warning 3.5/5 Rezi
Rundle, Mary – Raphael's Power 4/5 Rezi

| Bleibende Worte |
 Reading helps keep me distracted from other people's stupidity. via Facbook